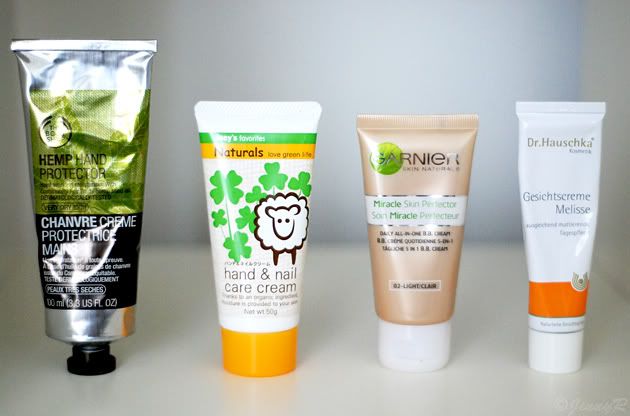 1. The Body Shop
Hemp hand protector
- only hand cream that makes wonders for my winter dry hands and works extremely well for my super dry feet too!

2. Jecy's Favorites
hand & nail care cream
- I bought this from a store named LoFT in Japan, just because it looked so cute with the lamb. But it actually turned out to be a perfect daily hand cream, since it moisturizes very well and it doesn't leave the hands feeling greasy...
and
it smells like lovely summer grass!
3.
Garnier
Miracle skin protector
- I'm hooked on this! It gives such a nice fresh and even look to my face.

4.
Dr.Hauschka Melissa day cream
- I have a mixed skin and this has turned out to be a good choice, because it moisturizes the dry areas in my face but it's not too much for the oily parts.
Do you have some products you can recommend or simply can't live without?